How to sell courses on shopify
By Denn Mokaya, Published on March 29, 2022
How to sell courses on shopify
As online learning is gaining popularity, many creatives, teachers and individuals are seeking to monetize their knowledge online. Many merchants on Shopify too would like to sell courses exclusively or alongside their products. Is this possible? Can you turn your Shopify store into an online school if you please? The answer is yes, we'll show you how.
If you'd like to learn more about selling courses online, have a look at How to sell courses online.
TL:DR
Install courses and memberships app on your shop. link
Create & publish your first course. Here's how to.
Create a corresponding product on your shop
Link the product to the course.
Create a subscription plan and link to the product. Here's how to.
What is Shopify?
If you are new to Shopify, it is an online software service that enables entrepreneurs to set up online shops and sell their products without any technical experience. If you don't have a store yet, visit shopify.com and create an account.
For this short tutorial, the products are online courses, let's get started!
What is Courses & Memberships app?
This is a Shopify add-on app, created by Inflowkit, that enables merchants to increase revenue from their store by enabling them to create and sell digital goods in their shop.
Install Courses & Memberships on your store
Shopify is built to market and sell physical products. For your store to be capable of handling digital goods like courses, we need to install an addon for that. Visit the courses & memberships app page and click add app to install it on your store.
Follow the instructions to activate the app and get it set up in your store.
Create your first course
Now that we have the app installed, click on content on the side menu and + content to create your first course. For more details on how to create the course have a look at these instructions.
The app has zoom integration to enable you to create live classes by simply selecting a zoom layout that meets your needs i.e meeting or webinar. Follow this link for details onhow to create live classes
On the course home page, you have the course outline that you can add to, edit and organize by dragging and dropping each item in the desired places.
Use the generate preview button to look at the course from a user's perspective & to fine tune its presentation. Once all changes are satisfactory, make sure to publish the course to make it available to purchasing customers.
Link the course to a product
After creating your course, create a corresponding product that this course will be linked to. This link makes it possible for a customer to access the course when they purchase the product at checkout.
With your product created, on the course outline page you can set up how to sell the course. There are two options available:
1. Sell the course as a one time purchase
This is the common pay as you go option. The user purchases the product once and can access the course till access time expires. If expiration is off, the access is infinite, but with the expiry days set, access is revoked once the time elapses.
2. Sell the course as a subscription
This is a special feature that helps shops increase their revenue. The user pays a subscription fee at the end or beginning of the billing cycle. It could be weekly, daily or monthly. The access to the course is renewed only when the subscription is successfully renewed.
This option works best if you have more value to offer during the billing period for your customers e.g new content each week or access to 10 courses at a lower subscription fee etc.
The subscription module in the app is powerful, it enables you to create as many subscription options as desired and allows you to link as many products to it as possible.
A unique feature that the app has is, you can have many subscription options linked to a product allowing users to choose which works best for them. And you can link many products to a single subscription, so you don't need to create many similar subscription options, just re-use one.
Further steps on how to set up are available here or watch the video below.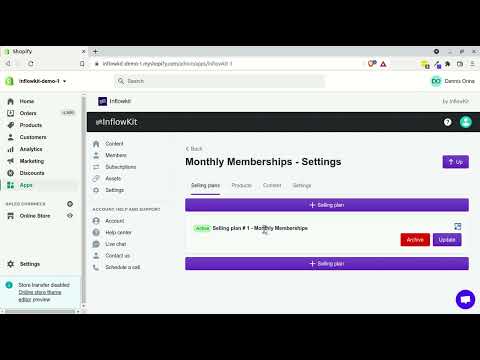 A look at the member dashboard
So how will your students access the course they just bought? Courses and memberships has a member dashboard that enables students to access their courses, view available courses they can buy, and manage their subscriptions.
For you to see this for yourself on your store, manually enroll yourself to the course and visit my-shop-url.myshopify.com/a/courses. Replace 'my-shop-url' with your shop's url.
Conclusion
Now you can sell courses on your shopify store! This is one of the best ways for you to earn passive income from your knowledge. Try it!